The Fairhope Inn was dubbed Best Bed & Breakfast in the 2023 "Best of Bama" awards featured in Alabama Magazine's July/August issue.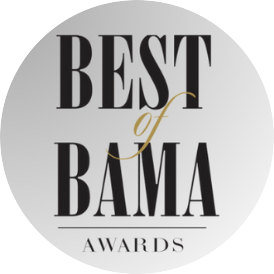 The reader's poll recognizes all things stellar statewide – from restaurants to art galleries, golf courses, music festivals, and more.
"Landing on the National Register of Historic Places in 1988, this historic inn and restaurant offer casually elegant décor, exquisite bedding, and well-appointed details topped with a classic southern breakfast," the magazine noted.
"We're thrilled – it's an incredible honor," said owner Paige Dawson. "A five-star experience is always our goal with every guest, and to know that feeling resonates statewide is overwhelming. It takes a team – and we have a great one."
The Inn features three suites and a carriage house in the historic 1906 home that's one of Fairhope's oldest structures. The restaurant features Lunch & Dinner Thursday through Saturday as well as Sunday Brunch.
Read the entire list at:
https://www.alabama-magazine.com/wp-content/uploads/2023/06/01.2023BestofBama.pdf